The Customer Service Outsourcing Checklist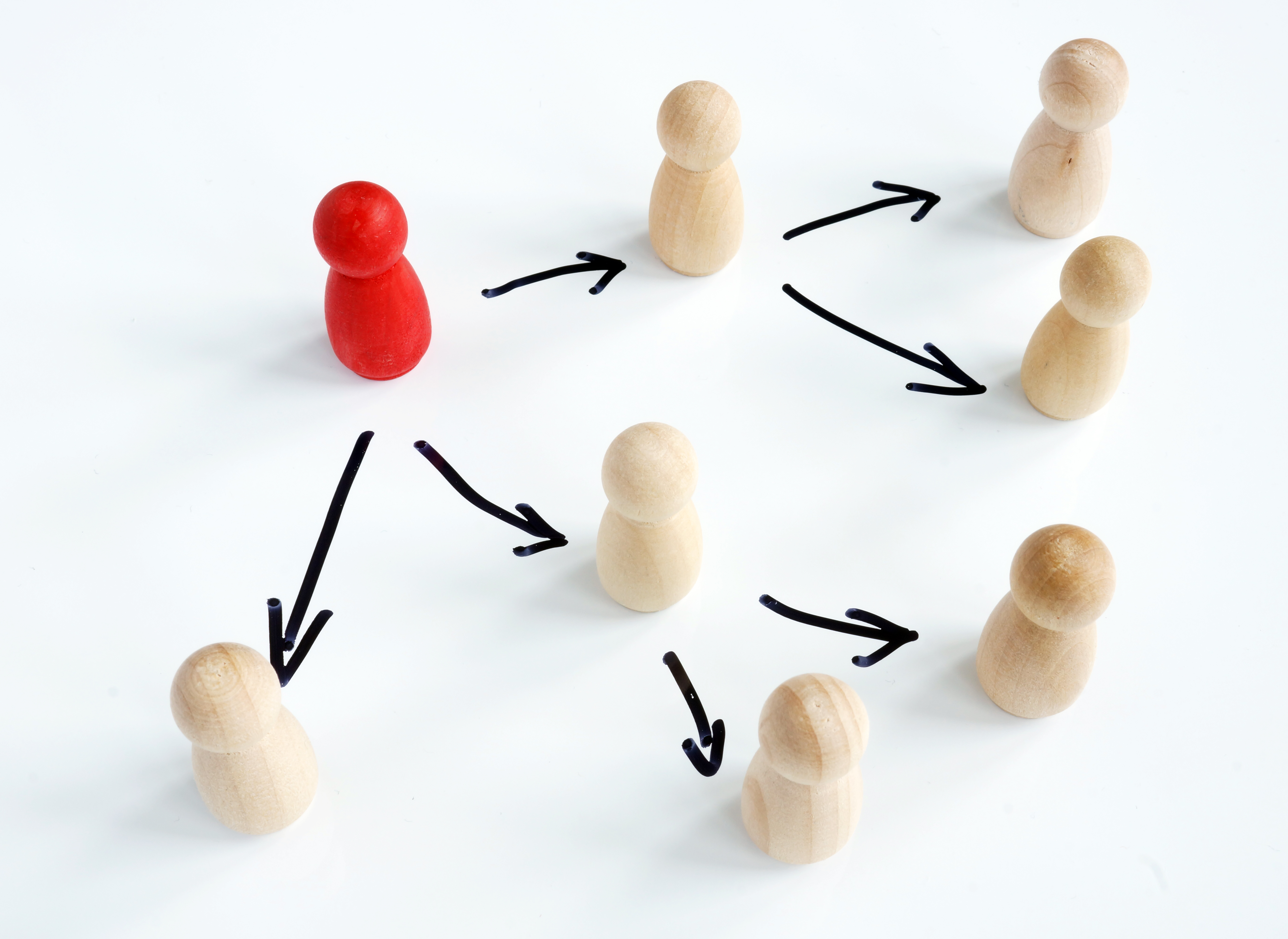 When to NOT Outsource Customer Service
Most consumers are surprised to learn that customer service is often outsourced. They believe when they are contacting customer service for their favorite
brand that they are speaking, chatting, or emailing with employees of that company. Sometimes this is true, but often it is not. 68% of US businesses leverage outsourcing and this is growing.



The question I am asked by these companies more often than any other is- when a company should consider outsourcing and when should they not? The first part of that question is often easy. Companies often seek to outsource when they do not have the internal staffing to handle the customer interactions. We thought it would be helpful to provide a checklist of when it is time to take the customer service operation in-house and not outsource.

When a business is new, customer service is often handled by one or two people. This is normal and they often handle phone calls and email inquiries Monday-Friday. However, as a business grows, the volume of customer interactions becomes tough to manage. This is when it's a good time to consider outsourcing. When your strategy around customer service has evolved and the desire to see improvements overall starts to become a priority. According to Simplr, "It's critical to choose a partner that understands the demands of the customer and wants to help you grow the business, not just maintain the status quo." In addition, CIO has reported that "… the worldwide data analytics outsourcing market is set to expand at a compound annual growth rate (CAGR) exceeding 30 percent between 2016 and 2024, reaching annual revenues of more than $6 billion".

Below is a quick snapshot of when you absolutely should consider outsourcing.
When to Outsource Customer Service Checklist:
Expansion of Hours- When you desire to expand hours of operation beyond Mon-Friday to the weekend, evening, or 24/7. An outsourcing partner is experienced with staffing in time zones.
Addition of Channels- When you want to add Chat, Text, or Facebook Messenger. An outsourcing partner will be able to help you not only with the technology to make this happen, but the staffing to support growing points.
Addition of Languages- When your business wishes to serve customers in their language, contact center outsourcers can provide this support to cover the necessary hours without having to hire for each language.
Tracking NPS or CSAT- When your CEO or executive team establishes an NPS or CSAT goal. Yes, this can be measured easily but places an extra burden on an in-house team. A partner will all provide support concerning analytics and the trending of metrics.
Contact Center Tech Platform- When you are looking at implementing a system like Zendesk or Gorgias, it is helpful to have a partner that has experience implementing these systems. Partners can guide you through the implementation process.
Expertise- When you find you need workforce planning, operational expertise, help desk support, or technology an outsourced customer service company can help manage all of these aspects of the growing business.
Training- When training classes increase and need to be formalized, it's helpful to leverage a partner's training platform (LMS) and training resources for the delivery of training.
WFM, Forecasting, and Budgeting- When volumes increase and impacting marketing activities are evolving, a provider will have workforce planning tools and expertise to forecast volumes for staffing and maximize scheduling to meet the fluctuations in patterns.
Now that we have covered briefly when to Outsource, we will share our experience for when the pendulum swings the other way and you know it may be time to run your own customer service operation. This may seem counterintuitive for an outsourcer to advise on when not to outsource, but that is exactly what I am suggesting here. However, this is not a minor undertaking. It is a daunting task for a large-scale operation and requires more than simply staffing in-house. An outsourced contact center provides for customer service. Yes, we hire people- but we also train, schedule, lead, coach, and manage the technology they utilize when they interact with customers. Many large-scale outsourced customer service programs are run quite successfully. It comes down to the strategy of the business as it relates to customer service.

When NOT to Outsource Customer Service:

If you have the following people, process, and technology resources in place, your business should consider whether it is time to run the customer service operation in-house.
Your Team Has Extensive Contact Center Expertise- When your company has vast internal resources to cover all the areas of a customer service operation. Here are the core functions that you will need to run the day-to-day customer care operation:

Strategy and Solution Design- Expertise in-house mapping solution design
Recruiting- A strong support team for recruiting on scale and expertise to support the nuances that come with a part-time/full-time workforce
Technology- Contact center platform expertise, agent set-up security, PCI, DR planning, administration
WFM- Omni-channel forecasting, scheduling, intra-day management, compliance tracking
Training- Adult learning expertise, curriculum development, and instructors
Coaching- Team members to provide feedback and ongoing coaching
HR- Appropriate support from team member relations
Operational leaders- Process improvement gurus who can build successful playbooks and design operation workflow
Analysis and Insights- Analysts who make sense of the data and there is a ton of it!
Remote Knowledge- Expertise in-house for all aspects of a remote operation

When You Can Recruit on Scale- When you have the internal resources to manage effective sourcing for candidates at scale, expertise with recruiting systems, and tools that prevent bias. If you find yourself writing the job description for your partner or want to interview the candidates, this is a sign you may need to do this yourself. By the way, this can expand into the area of co-employment so be careful to let the appropriate party do the hiring and managing.
You Have 24/7 Technology Support- Ongoing internal resources to support the evolving security requirements for agents, quality, speed (if leveraging remote agents), expertise with integration, and ongoing help desk support.
You Have a Quality Platform & Analysts- When you have a platform that utilizes an AI to analyze 100% of contacts, internal expertise with platform, quality scorecard, call recording, and transcription capabilities. If you have a team that is reviewing quality and coaching, it means you care about the types of people doing the job.
Experienced Training Team & LMS- If you have a lot of resources, the training team is one of the most important aspects of an in-house call contact center. The onboarding process can be time consuming and you will have to have the proper training team to train about the products and services and make sure the correct message is being promoted across all staff.
WFM Platform and Forecast Planning Expertise- If you have a workforce management team that has experience with forecasting, planning, intra-day management, and scheduling. An effective workforce management platform will include the proper processes that ensure the correct number of agents with the proper skills are working at the right times. This is the ultimate intersection of business need and team member happiness. Workforce management can determine the organization's needs and help with all aspects of the management of the customer service team and increase productivity while creating schedules and tracking employee attendance.

Deep NPS Experience-

(Having lofty goals). Of course, we all know NPS is about what customers think of a brand. It doesn't necessarily reflect the experience they have had with a customer service agent. However, if you find you have the expertise in-house to sift through what is meaningful and have alignment throughout your organization. If your goal is over 43 for NPS then it might be better to not outsource as this is a lofty goal. According to Retently, "a memorable customer experience is what makes the difference in driving up a good NPS score."

Business Analytics

- Analytics become increasingly more important as a business grows. CIO has further reported that "cultural fit and alignment of teams plays an equally important role" in the selection of the appropriate vendors.
Budget- When service is a priority, you will have the budget for all the supporting components that help run the operation. Many believe outsourcing customer service is just about the people and they can easily do this themselves. However, there is so much more to factor into budgeting. You will need to account for technology, and management resources with the areas of expertise in each field to support the frontline customer service team. This includes Recruiting, HR, WFM, Technology Admin, Tech Support, Training, Quality, Analysts, etc.
Why is Running a Customer Service Operation So Hard?

It takes a significant community of experts working together (like a symphony) to successfully run a customer service operation. And this community needs a solid trust-based cultural foundation. The reason this is important is that nothing is static with customer service. Customer service is constantly changing and requires excellent communication and connections between all related department team members because they will face challenges daily. The team will need to have the ability to constantly evolve, train, refine workflows, replace technology, and quickly facilitate ongoing process improvement. Process improvement initiatives cross departments from recruiting to workforce management to training and finance.

Expertise is also critical. Customer service is at the center of almost every business, which means there will be many questions connected to those things that impact the business daily (supply chain, product issues, policies, etc.). At a minimum, this overhead infrastructure should include approximately 12 leadership roles to support all processes. Below is an example of a customer service organizational chart outlining the key roles: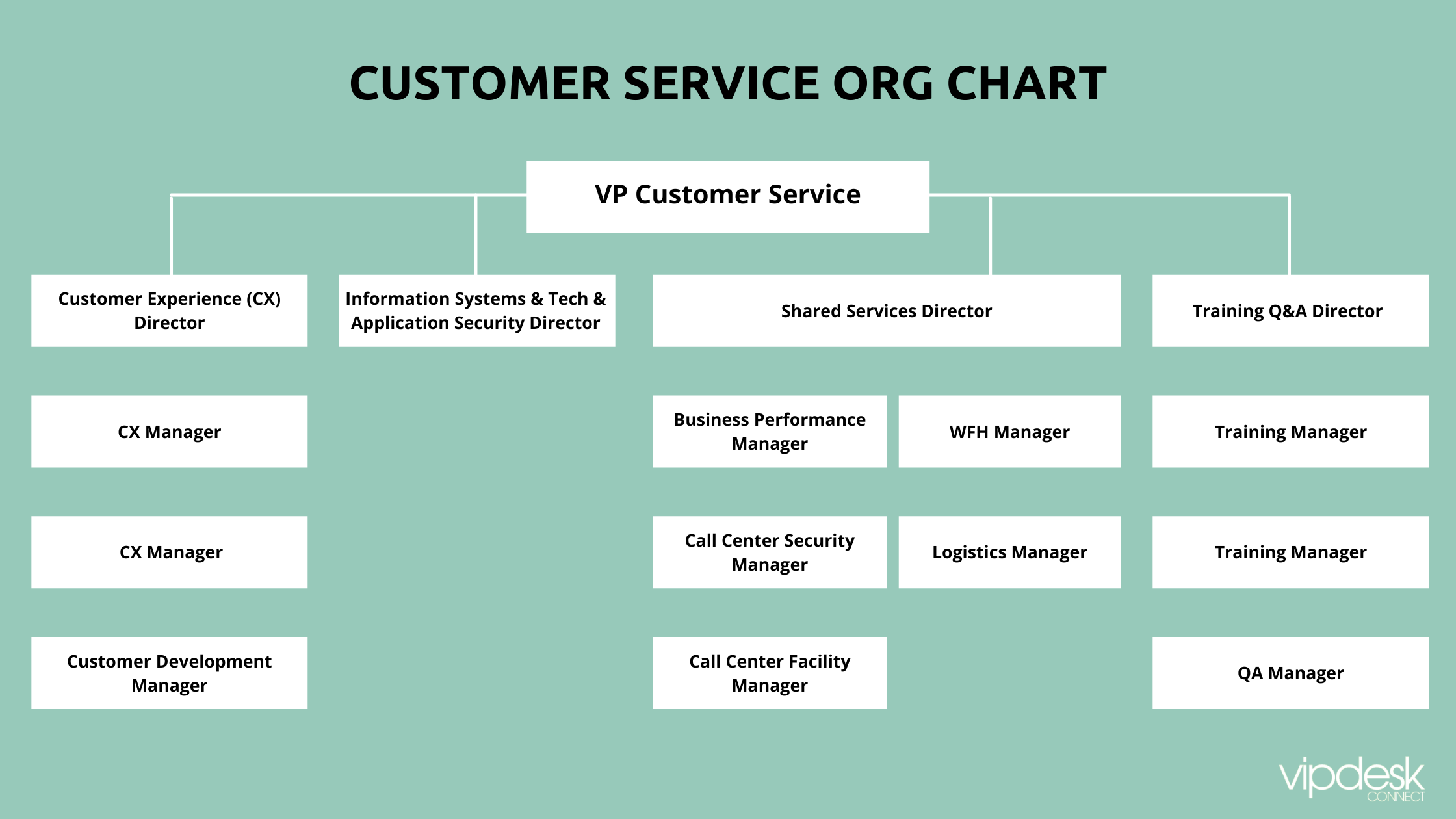 Whether or not to outsource customer service is specific to each company. As we indicated above, it may work for some and not others. We hope that we have provided enough detail for companies to decide to outsource or not. To reiterate, as companies grow sometimes it might be beneficial to outsource customer service, but other times culture and systems that are in place might be sufficient to keep customer service in-house. It's a fine line and management must determine the best fit for the future of the company.