How VIPdesk's Core Values Create the Foundation for Delivering Elevated Customer Experiences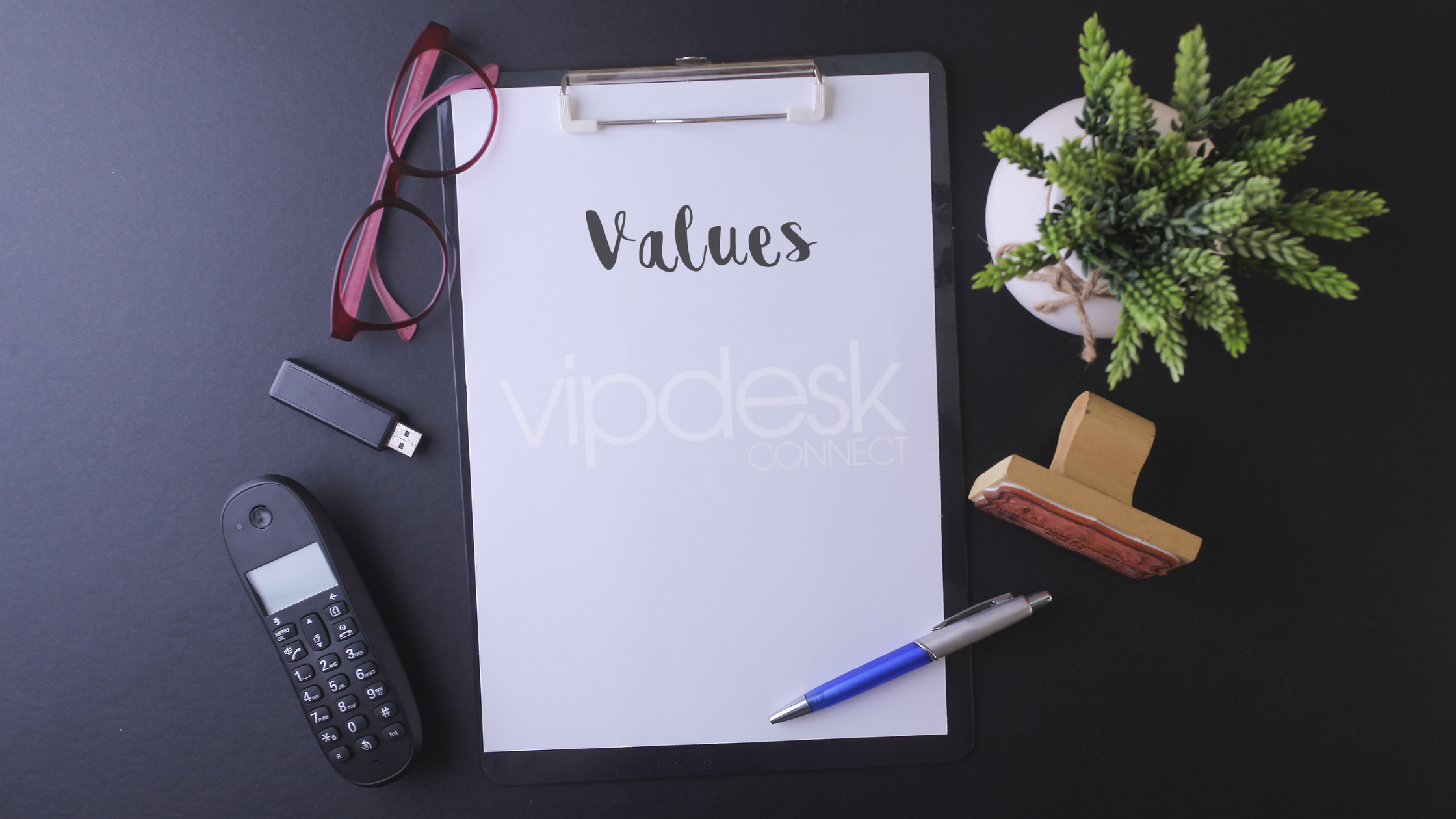 Our Core Values influence everything we do with our clients, partners, and our community. They become the foundation for our corporate culture. Such strong values help us attract team members, improve relationships with our stakeholders and elevate the human experience.
We've worked purposefully to create a culture built on the simple idea of being more human. The passion we bring to our client relationships not only pays dividends to their customer care program but also elevates the entire customer experience creating passionate brand loyalists.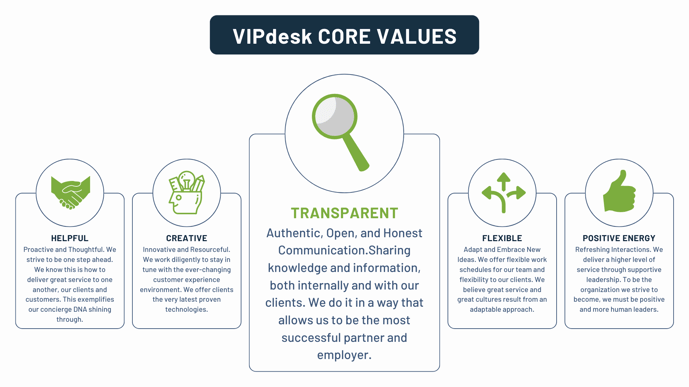 Why Being Transparent is Important to VIPdesk:
At VIPdesk, one of our key company values is Transparency. We feel that it's important to be open and honest in all of our business dealings – with our team members, our clients, and our customers. We believe that transparency creates a more trusting and positive working environment, and ultimately leads to better business results.
There are many benefits of being a transparent company. First, it builds trust with employees. When team members feel like they are kept in the loop and have access to information, they are more likely to trust their leaders and feel invested in the company. Secondly, transparency fosters collaboration and creativity. When team members and partners feel like they can openly share ideas and suggestions, it leads to a more collaborative environment where new and innovative ideas can take root. Finally, transparency helps to create a positive company culture. When employees feel like they are part of a team that is open and honest, they are more likely to be engaged and enthusiastic about their work.
At VIPdesk, we believe that transparency is the key to success. We are committed to being open and honest in all of our dealings, and we know that this commitment has helped us to build a strong company culture and continuously achieve great business results. For more check out 10 Things Transparency Can Do For Your Company - Forbes.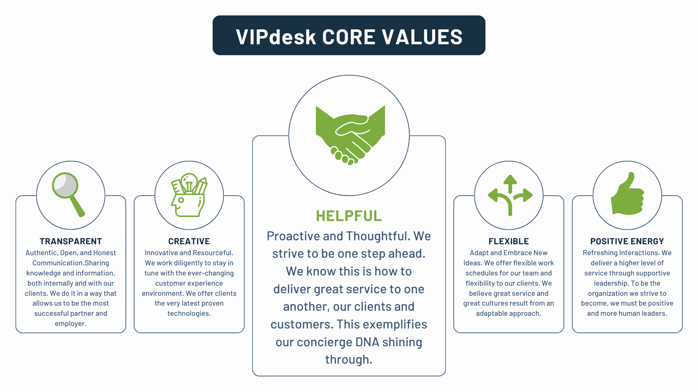 Why Being Helpful is Important to VIPdesk:
As a customer support company with a long standing history of concierge, we know the value of being helpful. It means providing the best possible customer service to our clients and customers. It means going above and beyond to make sure they're happy with their experience. It means always being there for them when they need us.
Being helpful is one of our core values here at VIPdesk, and it's something we take very seriously. We believe that by being helpful to our clients and customers, we're able to create long-lasting relationships that are built on trust. And that's something we can all benefit from.
If you're looking for a customer support company that genuinely cares about its clients and customers, look no further than VIPdesk. We're always here to help, no matter what you need. Contact us today to learn more about our services and how we can help you.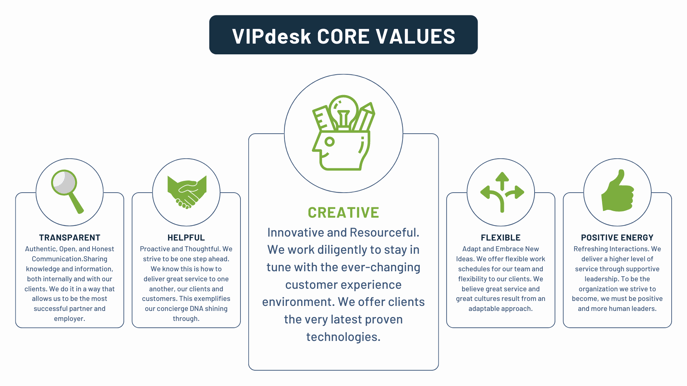 Why Being Creative is Important to VIPdesk:
Being creative is one of our core values here at VIPdesk. We brainstorm and constantly question the status quo. We work diligently to stay in tune with the ever-changing customer experience environment. We offer clients the very latest proven technologies.
It's not just that we have creative thinkers on staff. We also encourage creativity in our team members by giving them opportunities to share their ideas and be heard. We think outside the box to solve problems. And we know that being creative benefits our company in many ways.
Some of the benefits of being creative at VIPdesk include:
Improved problem-solving abilities
Increased productivity
Enhanced team morale
Greater innovation
Improved bottom line results
By encouraging creativity in our team members, we're able to offer clients the best possible experience. And that creative thinking benefits everyone involved.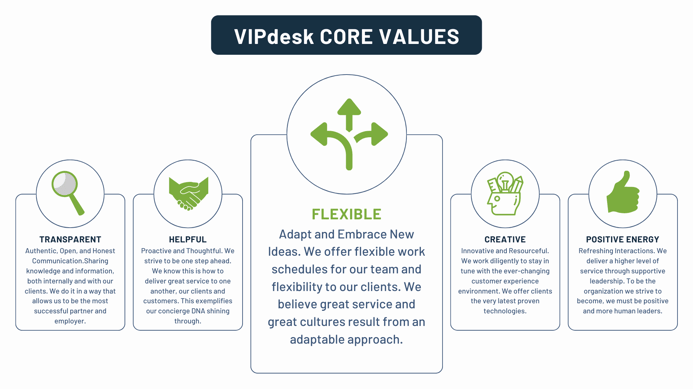 Why Being Flexiblet is Important to VIPdesk:
At vipdesk we know the value of being flexible in business. We provide the best customer service by being flexible to the needs of our clients. Our team is available 24/7 to offer tailor-made support when you need it most. By being flexible, we are able to provide a high level of customer service that is tailored to each individual client. This allows us to create a lasting relationship with our clients built on trust and flexibility.
The last few years have been unpredictable as we continue to navigate the ever-evolving saga of a global pandemic. The key thing about this particular type of crisis? Being ready when things shift again: keeping your business functioning properly by staying flexible enough no matter what comes along next. It's important for businesses to keep this principle at heart and take steps now so they don't get left behind by their competition.
For more check out Forbes' Flexibility: Every Corporation's Most Important Strength During The Pandemic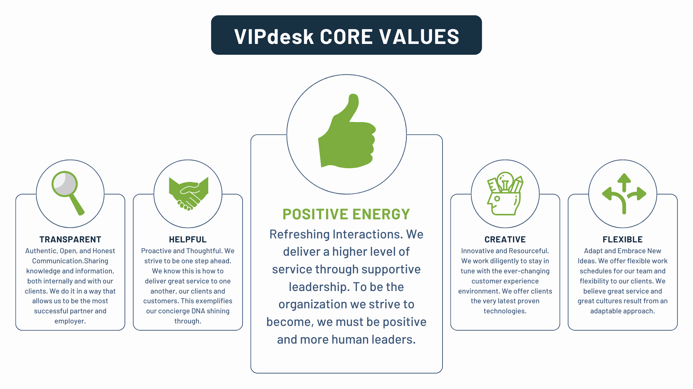 Why Positive Energy is Important to VIPdesk:
When we are positive at work, it shows in our attitudes and interactions with others. We demonstrate a "can-do" spirit, are creative problem-solvers, and look for ways to make things better. Our positivity attracts others and creates a positive work environment for everyone.
When we're positive at work, we're more likely to:
Be productive
Get along with others
Handle stress better
Make better decisions
Be creative
Have a positive impact on those around us
Positivity also has a positive impact on our physical health. Studies have shown that positive emotions can boost the immune system, increase our resilience to stress, and even lengthen our lifespan. So not only is being positive good for those around us, it's good for us too!
It's easy to come up with core values that sound good on paper and have a vague meaning. The important thing is to come up with a set of values that shape your company culture as a whole and binds your team with a shared sense of purpose for achieving common goals. At VIPdesk our company values allow our team to understand who we are and how we approach our everyday work. They help us embody our vision of "being more human". Having definitive core values has helped us curate a company culture of unity with our employees as well as a guiding light on how we service our clients. How does your company's values help define your culture? Need help understanding the importance of core values? Read this article by cool leaf that lays out the foundation of why you should be focused on your core values.